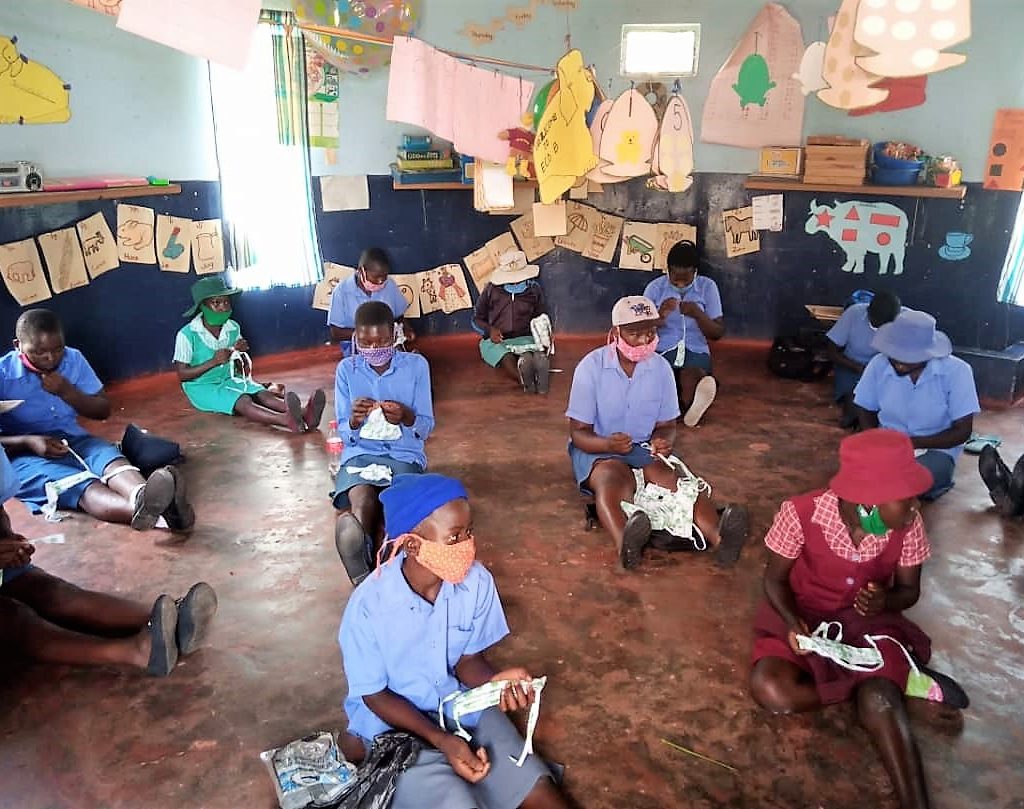 Here is some video to be able to peek into the world of our MMC program (Mhandara Monthly Care), which focuses on the maturing girl.
This gathering was a normal Friday afternoon meeting, but was highlighted with the addition of MMC Start-up Kits for the new girls. They spent the afternoon together enjoying music, sewing, marimba, and always gentle instruction.
We have over 80 girls in total just within Nhimbe, and 45 or so received their first kits (bucket, soap, underwear, a new purse sewing kit, and reusable washable supplies). If enough donations come in, we will be able to reach out to the neighboring communities, as we have done in the past (just without the 3-day camping).
These girls are following the same mask pattern we sent by Whatsapp in April for the women to make for village distribution (very similar to the pleated ones our volunteers have made available here on our website as a fundraiser). The girls are making themselves and their family members masks. You hear some marimba music outside at the beginning because they are taking lessons as well.
The marimbas are sounding wonderful! The girls didn't get to play for months during the hiatus and are now back to it. Many thanks to Kutsinhira ZCDP grant that made this marimba set available to Humwe, our sister organization here in the villages. And, of course, thanks to you, our donors, for sponsoring the teacher, Kenny, who comes to offer lessons!
Offering a speech to your peers and the community is part of growing up in Zimbabwe. This girl speaks to the empowerment of learning.
.
"A good day to you all! My name is Tariro Rukodzi. I want to tell you about Education. Education! Education! Education is the key to success.  Education is the most powerful weapon that you can use to change the world. Without education, life is tough, like chewing roasted maize without any teeth. With me, I have education…we stand without compromising.  With education, life is like cutting margarine with a hot knife. Education is the vaccine for violence.  Thank you!"
.
WE can't thank you enough for your tremendous and continuing support! This year has been difficult for all of us, and it is no different for them in the rural area, except maybe less media to tell them what is going on and less water and soap to use for cleaning, but all balanced by a very strong resilient nature.
.
Your contributions now help us know how we are able to support them in this work during this next year. Please check out our annual letter from the director, the letter from our Board President and go to the shop to see how you might reach out.
.
Tatenda Chaizvo!