Jaiaen Beck
Founder and Executive Director, Ancient Ways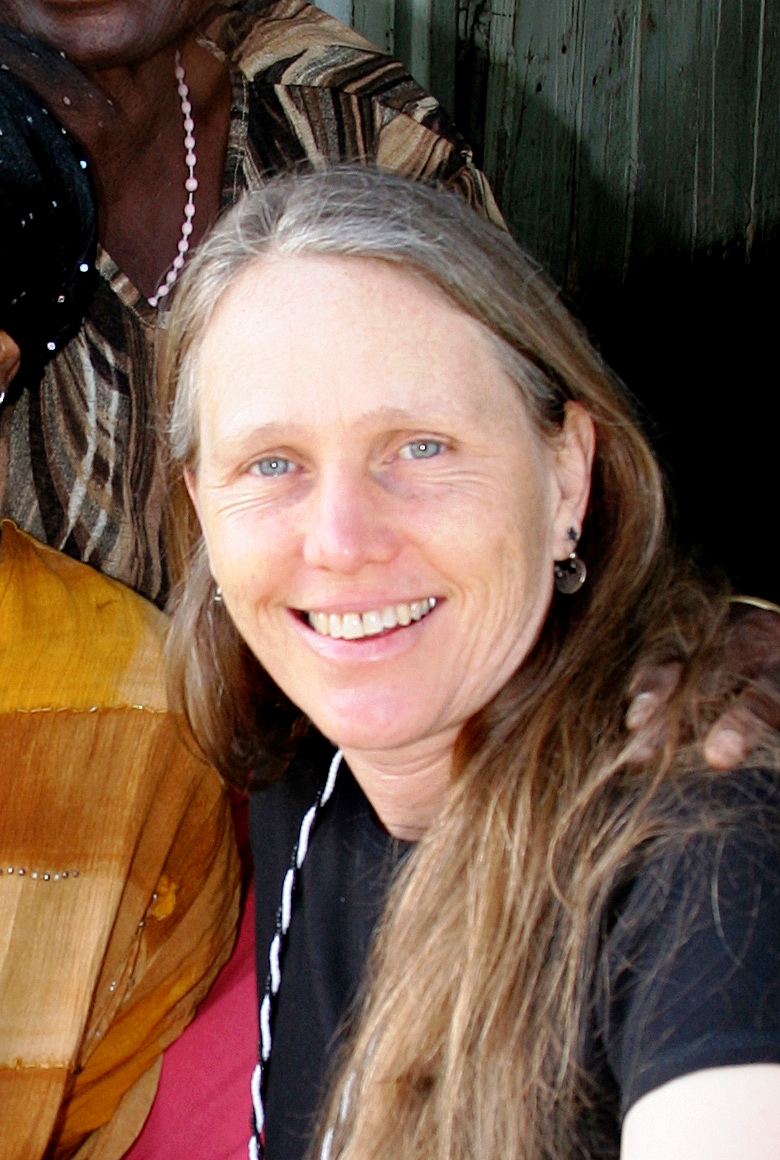 Jaiaen Beck's life has been shaped by persistently seeking information about the qualitative nuances and subtleties of healing practices from around the world as contrasted with 3rd dimensional explorations of evidence-based medicine alone. Experiential personal discoveries in non-ordinary reality, new physics exploration as a hobby, partnered with her spiritual faith and a religious path has led her to be passionately interested in healing, carefully but not casually curious about ancient cultures, and compassionately driven to do her part to alleviate the suffering of the world.
Following a lecture about Shona spirituality by Dr. Abraham Dumisani Maraire sponsored by the Kutsinhira Center in Eugene, Oregon, in 1990, Zimbabwean music, culture, and their healing traditions became a passionate interest. Exploring healing traditions of cultures from around the world since 1970, she began creating space for people to learn together, and in 1993 she founded Ancient Ways as a charitable non-profit organization. In 2000, she was adopted by a Shona family, leading her to study their healing traditions, their customs, and the social fabric of their society.
Jaiaen has taught contemporary and traditional Zimbabwean music to people of all ages (from 5 to 75) both locally and nationally in community venues, school settings, and correctional institutions, as well as been part of several performing groups.
Through Ancient Ways, Jaiaen co-founded Nhimbe for Progress in 1999 with Cosmas Magaya, and Jangano in 2005 with Fradreck Mujuru, two separate rural community development projects, providing a link for people to connect and offer humanitarian aid to rural Zimbabwe.
As part of her wellness paradigm and healing profession, Jaiaen has numerous training certificates in NMT – Neuromodulation Technique, Focusing, and shamanism. After studying healing with various teachers since 1970, including Jewell Beck Pare, Michael Harner Ph. D, Sandra Ingerman MA, Leslie Conton Ph. D, Tom Cowan, Don Alejandro, Don Ramon, Joshua Magaya, Vachiera Matilida Magaya, Dr. Les Feinberg DC, and Mary Courtis Ph. D, she offers herself as a teacher and wellness guide in a variety of ways. Her teachers have helped to shape her perspective of cosmology and a worldview.
PLEASE SEE PAST PROJECT DIRECTORS LINK (here) FOR MORE INFORMATION AND HISTORICAL CONTEXT.
— NHIMBE FOR PROGRESS WAS CO-FOUNDED BY JAIAEN BECK AND COSMAS MAGAYA IN 1999. AS OF AUGUST 2020, NHIMBE LEADERSHIP WAS SHIFTED TO BEING LED BY A PARTNERSHIP BETWEEN MUDAVANHU MAGAYA AND FEBBY SHAVA.
— JANGANO WAS CO-FOUNDED BY JAIAEN BECK WITH A CO-LEADERSHIP BY FUNGAI MUJURU AND FRADRECK MUJURU. JANGANO WAS UNOFFICIALLY DISSOLVED DURING A POLITICAL TIME WHEN NO TRAVELERS WERE ABLE TO VISIT THE AREA, MAKING COMMUNICATIONS IMPOSSIBLE..
Mudavanhu Magaya
CO-Project Director, Nhimbe for Progress
Mudavanhu Magaya, was deeply imprinted by his father's legacy, Cosmas Magaya.  His life-long bonding experience combined with his own coming of age just as Nhimbe for Progress was born, has given Muda personal incentive to raise the Nhimbe child, with every fiber of his being.  We see all the best leadership potential brimming over the edge of his cup, as well as being an excellent team player and budding businessman.  His business acumen is continuing to reveal as his Nhimbe co-director path unfolds daily. He regularly demonstrates his technical and financial ability. For example, as he took the reins, we began working on deepening more wells in November 2020, and he moved over $5,000 through the project to touch these villagers lives in that very essential and important way.
Muda has had a variety of investments in his work life involving transport services and chrome mining, as well as importing electrical components from China for government buyers.  Muda, born in 1982, lives part-time in the capital city of Harare and part-time in Mhondoro.  He hopes to farm a bit now that he is in the rural area so much.   He is blessed with 7 children, 4 girls and 3 boys, all living in Harare except one in boarding school in Mutare.  His new life is keeping him on the move!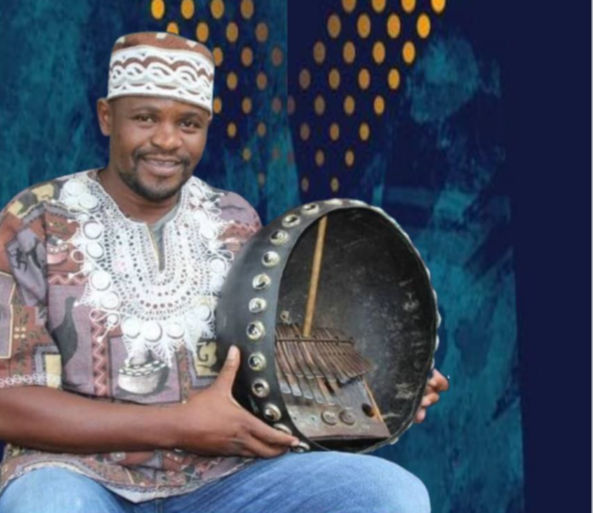 As the son of world-renowned gwenyambira, the late Cosmas Magaya, Mudavanhu "Muda" Magaya has played the Zimbabwean Mbira Nhare (also known as Mbira dzaVadzimu) from an early age. He grew to be an expert gwenyambira himself, as well as a teacher of the instrument and its associated culture.

Like his father, Muda is dedicated to teaching and preserving the traditional playing style and tuning of mbira that Cosmas Magaya inherited from elders and passed on to him and others. He has played for many years with his family group, Mhuri yekwaMagaya, and in recent years has performed solo and with other musicians. He has performed a solo online concert sponsored by the Eastman School of Music in Rochester, NY, and made solo and group recordings for MBIRA.org. Muda also serves as the primary mbira teacher for HUMWE – The Cosmas Magaya Cultural Arts and Education Centre in Mhondoro, Zimbabwe.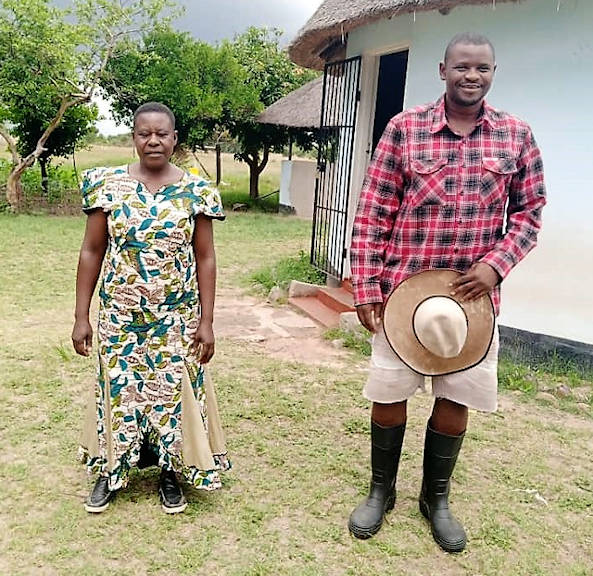 Febby Shava and Mudavanhu Magaya
.Febby Shava
CO-Project Director, Nhimbe for Progress
Febby Shava came to us with a love of teaching children, as we began our Nhimbe preschool in 2002.  Her continued application of these natural abilities together with knowledge from ongoing trainings, as well as the immersion in our unique way of working has provided her with an immense skill package. All of this has developed this down-to-earth woman, born in 1969, into a magnificent team player, while always on the lookout for the health of the whole project.  She caters to the needs of both the early childhood development, as well as the adolescent mind-body, which as we all know, is another animal.  It's no different in Zimbabwe, so we applaud her willingness to tackle the teen years, offering them learning opportunities.  She has been part of every one of our campaigns, including Covid-19 intervention training, the mask-making sewing team, and the garden expansion project, where she is seen out there in the field shoveling and being a link in the compost bucket brigade alongside everyone else.
Febby originally trained as an Early Child Development (ECD) teacher at Seke Teachers College, and did in-service training (attending during holidays). Febby is mother of full-grown children. Her daughter Nyaradzai Murisa is attends Midlands State University doing Computerized accounting and is 29 years old. Her son Hillary just finished Ordinary Level and is currently looking for employment. Febbie is also currently looking after her young sister who she frequently sends money, and her brother's daughter. Her home is in the Chibikira village, walking a total of 7 km to get to work at the Nhimbe for Progress Community Center, and back home each day.