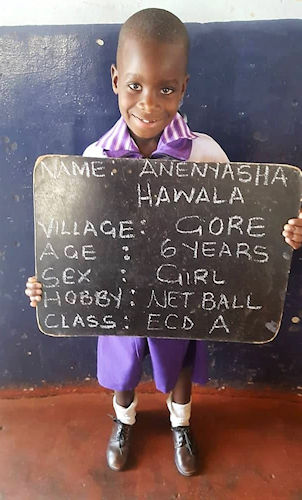 Anenyasha's parents are alive and together. They have a well but no toilet.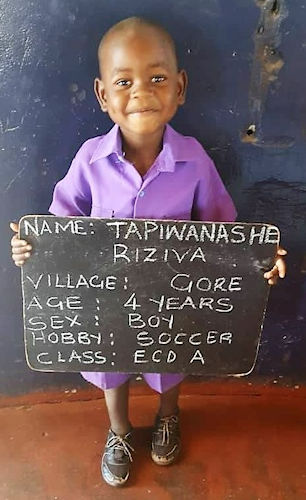 Tapiwanashe's parents are alive and together. They have both a well and a toilet.
 

Preschool – Use for the Greatest Need

The Nhimbe for Progress Preschool is fully operational, with 3 teachers, 2 cooks, 1 groundskeeper, 1 housekeeper, and 2 night guards. Children's meals are prepared with a variety of healthy fresh foods from the market in town, rural vendors, and the school's own orchard and garden. Improving this garden with more drip irrigation is a goal to make the preschool itself sustainable, through a more prosperous permaculture. Parents pay $1 per term and help with firewood. Our preschool has been recognized in Zimbabwe as a model preschool by the Ministry of Education. Whatever you can do will help. Thank you for your continuing support!
Sponsor a Nhimbe Preschooler for $195

Bringing a child through their early childhood development (2.5 yr-6) costs $195 for the year. Children are prepared for 1st grade with academics, music (song, dance and drumming) and the best in early learning life skills. The local community is serious about raising the standards of what is available from the government, since little has been offered in education. We will send a picture of your sponsored child!
Why do we sponsor children to go to school?
We each have our own motives for helping a child at this tender age.
Surely we think about feeding the child, just from the simplest place of human kindness.
We also know that the early years are developing the emotional context for the rest of the life, and the ways we sensually relate to the world help to ground us with neural pathways that are essential to be a contributing member of our communities.
We also know that empowerment comes from some basics in academics.  Not everyone is designed to be on the scholastic path, but they need a relationship to basics, and learning how to learn.
Of course, graduation day an the ultimate purpose of the preschool – to prepare them for the Zimbabwean educational system.
Our teachers are trained to fulfill the curriculum for preschool, with special books and learning approaches appropriate for their culture and environment.
Thank you for your continued support!
Background
The vision for the Nhimbe Preschool was kindled by a partnership with the Sundborn Montessori Children's House in Albany, Oregon. When Jaiaen and Sundborn's founder, Karen Barton, discussed the work in Zimbabwe, Karen immediately saw a connection for her own school. A mutual friend had traveled with Jaiaen in November 2000 to the Nhimbe area and brought back stories and insights about the project. Karen had always had a vision to help her own preschool connect globally and the Nhimbe for Progress community had a very special place in its heart for a creche.
Funds were saved until the building could be started. The very best concrete bricks were made on site. The hut was built extra large and with a securely thatched extra-thick roof. As children attended, teachers were hired, cooks also came on board and eventually an outside kitchen was built as the women were found cooking over open fires in the rain to be able to provide the daily meal.
A Meal A Day
This meal is prepared from the best ingredients considering as much variety as possible. Most families eat sadza more than once a day and so efforts are made to supply the child with bread, peanut butter, rice, dried fish, and beans, for example, as well as fresh fruits and vegetables from the garden. The garden and orchard have been developed from the ground up and utilize natural composting and basic permaculture concepts.
There is a well on site that has recently been upgraded to have a manual pump so that far more water is available for cooking, cleaning and gardening. This was a gift from UNICEF in 2011. Also earlier in that year, the playground was upgraded by the J. F. Kapnek Charitable Trust. Both organizations saw our efforts to bring a great preschool to this rural area, with limited funding. Due to their generosity we have benefited from this facelift not only practically speaking, but also it has helped morale within the community.
International Standards Development
Currently the school is operated by a lead teacher trained by the Ministry of Education and two assistants also with basic preschool training. Supplies and materials have been donated by Sundborn Children's House since 2002 so that many things are available for the children. We are in the process of saving to be able to send a teacher to training in Africa which would be a year long study. For more information, see Sundborn Children's House. Thank you for your support of our preschool!