Ancient Ways provides opportunities to study and play the marimba music of Zimbabwe, both internationally, and locally in the mid-Willamette Valley in Oregon. This picture shares a moment at the Nhimbe for Progress Community Center where children have gathered after school and on weekends to learn traditional and contemporary music on marimba, with song, drum and dance, as part of our Youth Well Being Program.
You Don't Have To Go All The Way To Zimbabwe
To Learn How To Play Marimba!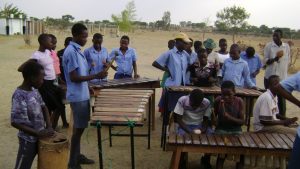 Mid-Willamette Valley LOCAL Days & Locations

Weekly Zimbabwean music classes for children (6 and up) and adults have been offered through us on a year round basis for 25 years. See our FAQs for more information. Feel free to email or call with questions.
Come play with us!
Ancient Ways Marimba Lessons & Workshops

Music Lessons are offered weekly in the mid-Willamette Valley for various experience levels. Workshops are created for special learning opportunities, most often with visiting teachers. Please indicate which class night you attend, or which workshop you want to attend. Please remember to include 4% ($4 per $100) for the credit charge. Thank you!
Classes are on Tuesdays in Corvallis at the First Christian Church (602 SW Madison Ave.)
We explore a bit of music theory but primarily the music is learned aurally and comes by listening, watching and doing. We also get some cultural grounding from hearing more about the music's history, the meanings and significance of the songs, and a bit about the rich heritage of Zimbabwean people. Please email or call about Tutoring. Private lessons are a great way to improve if you ever feel stuck, or are interested in progressing a bit faster.

Tuesday 1:30 to 3:00 p.m. TAMUKA Marimba – Intermediate players (3 years or more experience). Coming into this group would require private lessons to learn the songs, if there is an opening. Much of the repertoire of this class is contemporary tunes.
Tuesday 3:00 to 4:30 p.m. CHIPINDURA Marimba. This is an experienced group. If you have percussion history and are able to teach yourself at home through excellent study habits, this might be a class for you, if there is an opening. Coming into this group would require private lessons to learn the songs. The primary goal and some of the repertoire of this class is mbira-based music (poly-rhythmic).
Tuesday 5:30 to 7:00 p.m. MAVAMBO Marimba – Beginning players. This is where we learn the basic fundamentals of playing marimba with our community. There may be an opening in this class for an individual who would like the challenge of coming into an existing class. A private lesson would be helpful to get started. Email to see what is the current class enrollment.
Monday 5:30 to 7 p.m. BEGINNING Marimba. Please email or call to put your name on the next new beginning class, possibly starting fall of 2023. The list is growing! Our goal would be 10 people to begin a class. Thanks.
How & What Do We Learn Together?
The Ancient Ways' community ensembles study contemporary and traditional songs, and original pieces that are developed in a Zimbabwean style. Students study rhythm and Zimbabwean music using marimba, vocals, drums, mbira (an ancient instrument made of wood with metal keys) and hosho (maranka gourd rattles). A phone, video camera or tape recorder or is extremely helpful to hearing the music outside of the class setting. This is one of the ways to "get it inside of you" if you only play with the ensemble weekly.
A marimba is not initially required to take lessons. If a student decides to pursue studying, a marimba will eventually be needed for practice. A limited number of marimbas are available for weekly rent. If enough students are interested, a community marimba building party is organized so that each person can make their own. One doesn't need to be a carpenter to build their marimba.
Zimbabwean music has been passed on for centuries in an aural tradition. We study in groups of about 8 people, also without written music. Individuals learn to listen, be, and refine their innate ability to play music instinctively. You'll be amazed at what you can do!
Here are some clips from songs recorded in 2002: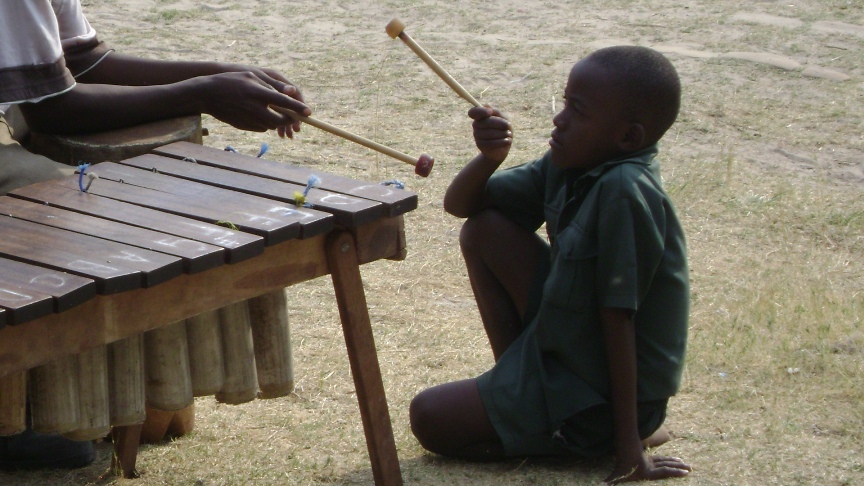 Marimba Friend in Zimbabwe