Thank you for your patience while we work with the issues on the ground. I have been slow to update you on the story, as there have been many developments. I prefer less emails and so assume you do too ;*))
.
The 12 collapsed wells from the recent Cyclone Eloise, were found to be 22 in total – the word comes in slowly through the bush. We were able to rebuild them all, and also able to complete the needed repairs at the Community Center, so that school started as required. Thank you for your amazing generosity in helping us getting through that incredibly rough time!
.
Everyone affected by the cyclone now has a new well, and is enormously grateful for your support. If we did not intervene like this, then what? There are no other agencies, organizations, what-have-you, that assist in this area with these kinds of life impacting problems.
….
Clean water is even more important now with Covid-19 still a concern. In fact, they are currently going into winter, and everyone is on alert for further outbreaks. We are scheduling our next soap distribution right away in alignment with our Covid-19 intervention strategy. We were forced to skip a distribution because of the lock-down (they literally stayed hut bound), so I'm sure everyone will be very pleased. Nothing like soap to alter one's lifestyle!
…
In June, we also plan to move into repainting the well lids. Three developments over the last year have left the well tops without our 'brand'. First, do you recall the lid repairs we did when we found irregularities compromising water sanitation and potential safety? That affected the well tops. Then, the deepening process that we did during the drought, also changed the looks of things. Of course, the most recent rebuilding efforts due to Cyclone Eloise rainfall created entirely new wells. Granted, the well itself is functional without painting, but there are at least three aspects that make it worth that $6 to paint each lid.
First, seeing the name gives the residents of the home a connection to the family on the other side of the world who cared enough to lend them a hand.
Then, it gives a fresh face to the top of the lid. The Shona appreciate making improvements to their homes that signify progress. And, paint does preserve the cement.
Lastly, it is a sign of being part of the Nhimbe community…it is a way to say, "Yes, we are part of this team!" Building an alliance among the villagers has been part of our key to success over the years. You know, like our neighborhood watch, and similar groups, can help everyone feel less isolated and more bonded with their neighbors.
.
We have a new design for the lids (no pictures yet) that incorporates the Nhimbe and Ancient Ways logo, which is another step towards formality that helps substantiate us in the "real" world. We could work under the radar for years, the way we did in the beginning as a club, and never be acknowledged or be seen, so just remain ominously invisible.
..
During the Mugabe reign, the Nhimbe for Progress name came up in Parliament more than once, when our dear Chief Nherera reported on what was "going on" in his area. So, we've been around the block, and are still standing, so we might as well step up and into the next phase of our evolution.
…
The Zimbabwean school system's terms are turned on their ear, just like our educational approaches here.  We have purchased supplies and food for the second time this year and so that part of our schedule is regular.  The children are meeting, as are the MMC girls on Fridays after school.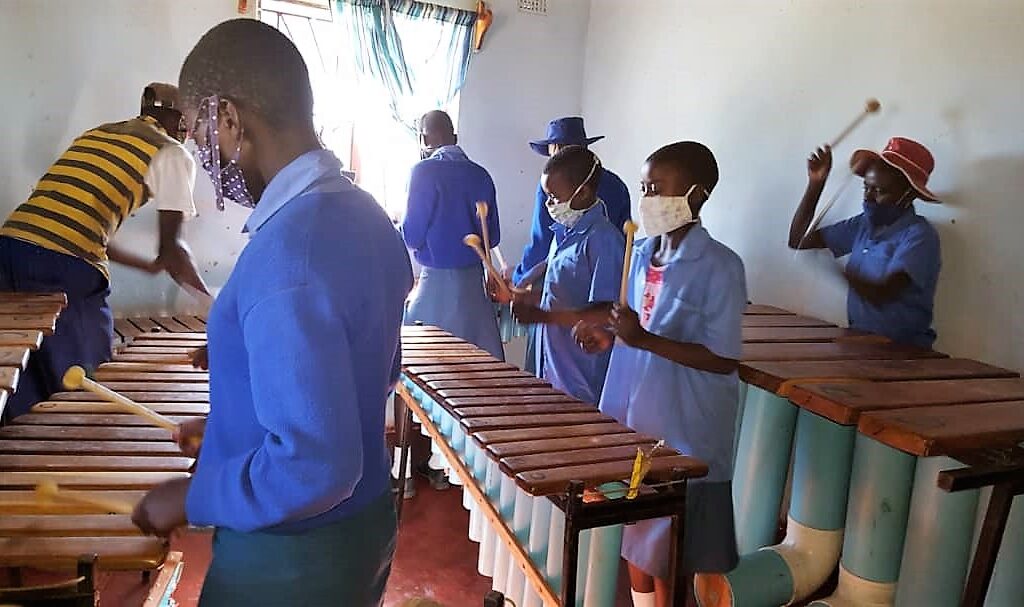 Marimba classes continue, as does the sewing training. The MMC girls are participating in a "service project" plus learning more about sewing.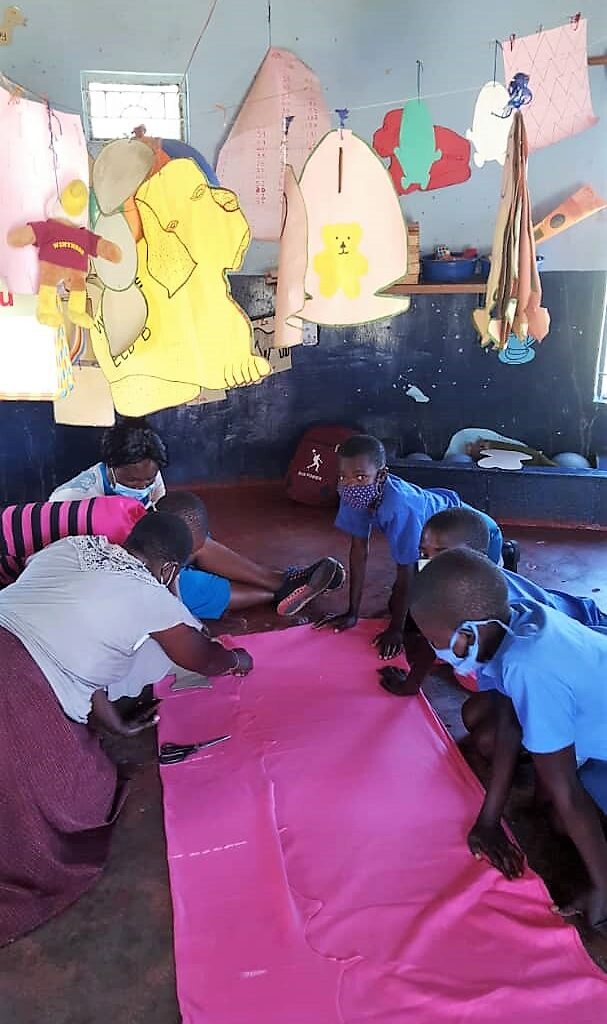 The end results are stuffed toys for the preschool children, which they can use for the preschooler curriculum.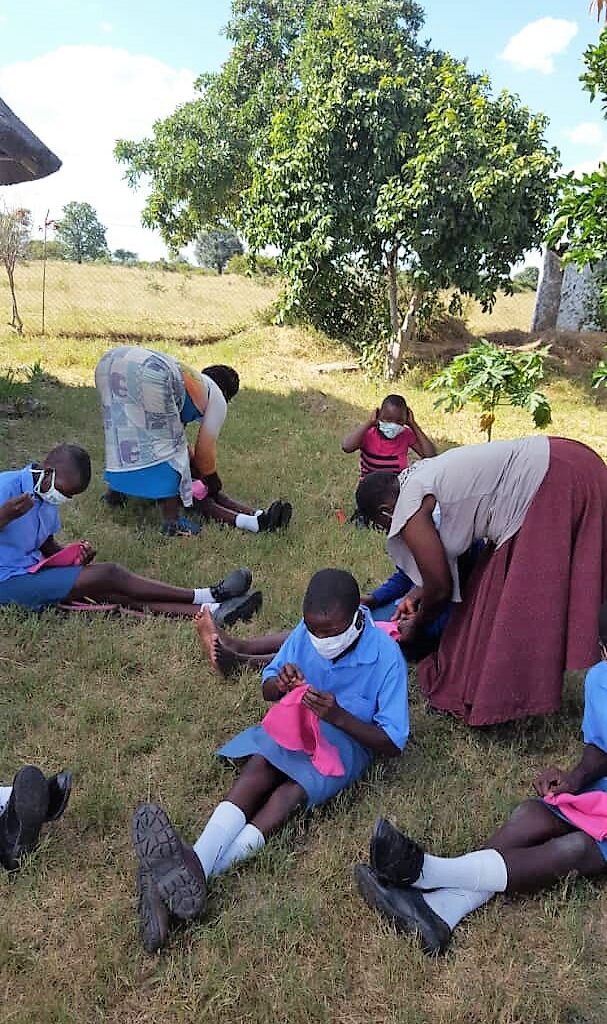 Everyone is happy to be back to a routine, although nothing is really normal, except a modified social distancing, mask wearing, and increased hygiene. We have just produced 11 batches (for 15 girls each, so 165 new girls) of MMC supplies, and so it feels really great to be moving forward again!
.
I know it's hard to look at pictures where their standards of distancing are different than ours, but its much like everything we do there…its all within the cultural norms, which we are not going to change.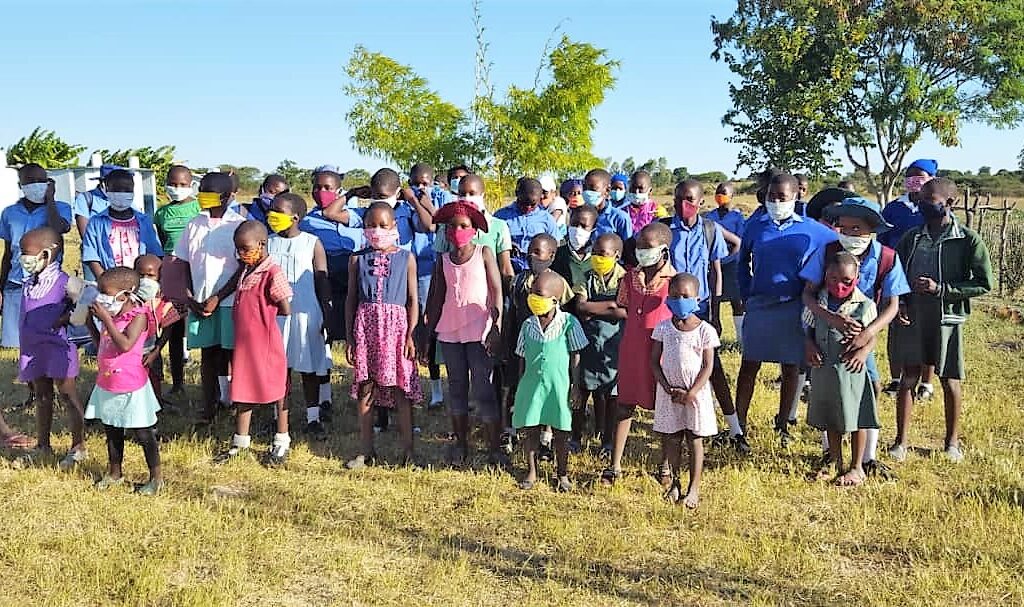 The MMC girls and the preschool continue to use the library on a regular basis, as do the community members. The library hut was one of the buildings that was seriously damaged by the torrential rains.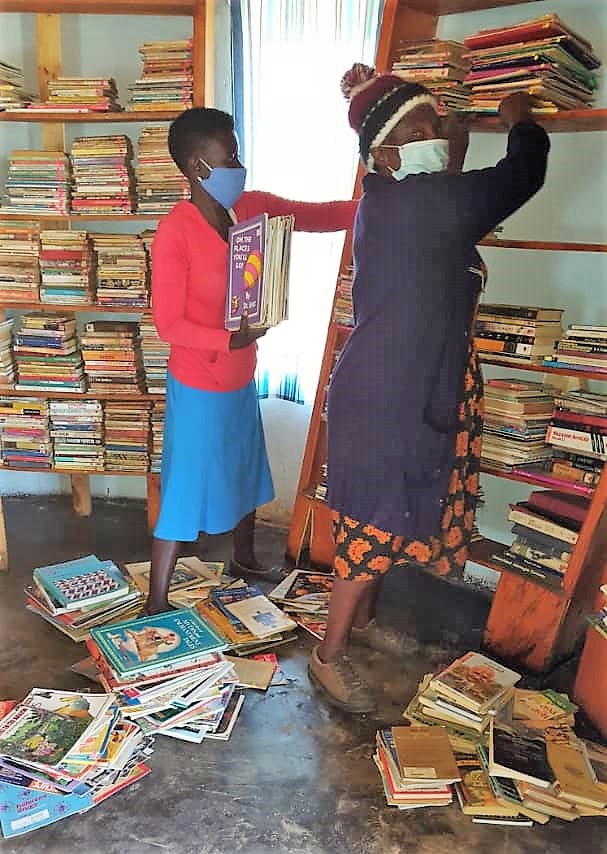 The teachers have taken the time to organize everything and get things put back into a good order. It's really looking spectacular!
Vaccines are available, although this article speaks of availability issues. In the beginning, people were wary of the source being from China, and so didn't want to jump on board. After all, the batteries and ink pens that are imported never last more than a couple weeks, so it didn't seem like the reliable option. There are free local vaccines available nearby, but it appears to be a personal choice without repercussions. There may be a requirement for all front-line workers to be vaccinated, but at this point there isn't.
.
There is new legislation now to get money into the hands of our team. Western Union has a new requirement forcing all monies to be deposited in a particular bank. The savings account that is needed doesn't have fees, at this point, so that is superb, but they have a limitation of only withdrawing $500 a week. This is problematic since we have been spending well over that, for all of 2021.
..
Muda says that the bank manager will work with us if we need to withdraw more funds, even though the new legal requirement is just $500. It makes me nervous…anything imposing on my freedom, and I get a little testy. He suggests not to worry, and my instinct is to push the envelope right away, to see if it really is going to be restrictive. He also reminds me that safety issues from walking around with larger quantities will be ameliorated.
.
We are a good team and complement each other's style. So, within the month we should know what this new regulation means. At worst, it appears that it would only slow down the work we are doing. The school could still operate, but we wouldn't be as free to think outside of the box. Like for instance, this month, the solar inverter just went haywire unexpectedly. The estimate on that is $450. Its those kinds of things that will push us over our $500 limit super fast. Muda is already traveling back and forth to the rural area, so hopefully we can come up with a work around.
.
We have continued to send $2,995 at a time, once or twice a month, to avoid any flagging when hitting the 3k marker. That has been an issue in the past for some of the smaller non-profits. And, we continue to use Western Union as it has proven the best over the long haul. A few years ago, wiring became impossible, and bank fees can be exorbitant. But, if you know of a better way to get money over there with less of a financial burden, please feel free to write, or call! We always appreciate community dialogues.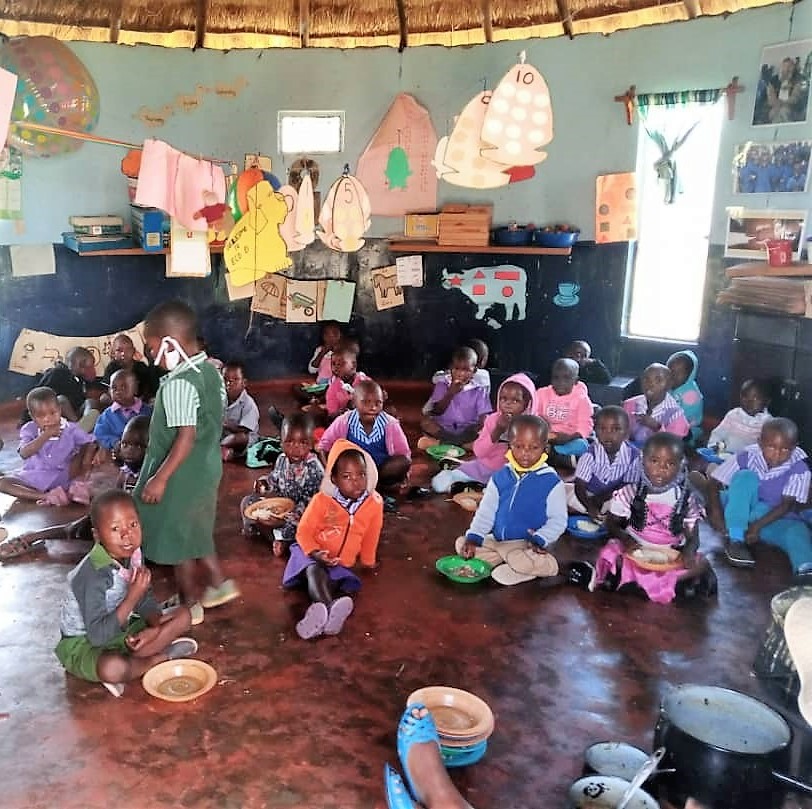 Thank you for your help with navigating this terrain. Your continued commitment gives me resolve to hang in there even when the expenses are mounting and there aren't easy answers to the issues at hand. You do make all the difference!
.
May you enjoy the summer months, opening their arms and welcoming you, like an unfolding flower radiating friendship!
..
Tatenda Chaivzo!
P.S.
We expect to discontinue our African fabric mask making in the near future. If you, or someone you know, needs a final mask or two, please let us know and we can still accommodate! Thank you for all of your support over this last year!