Early winter greetings from here in Lacomb and summer greetings from Zimbabwe! Some rain has started for them, but is slow coming at this point. Our well building lid painter is busy painting as many lids as possible before the land begins getting soaked. We are hopeful that they have a good summer rainy season, and that he is able to paint many lids before the onset. We are repainting many wells after the serious repairs, which have been completed over the last couple of years.
Our well lid painter, Nyasha Muzambi, is also a key Nhimbe artisan and craftsperson with us since the beginning. His family has grown some and they now have 5 girls and one boy, which is a large family there, just like here. His wife, Gabriella, was our Nhimbe preschool teacher and librarian, but with the birth of the twins, which came along third, she needed to be at home. It was a big loss to our preschool, as she is super smart and always quite a contributor. Much of Nyasha's artistry, as well as other crafts people's, is on sale now here, with shipping all included!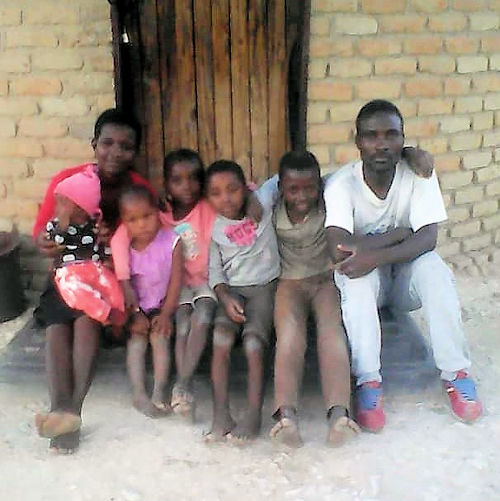 Picture Prior to the the Most Recent Newborn
We are sharing these crafts with you on the new marketplace, in time for your holidays. These precious items are calling to be in your homes. If you ever needed a genuine high-quality item from Zimbabwe, crafted by people who are feeding their families, paying for their children to attend school, covering medical bills, etc. now is the time! Please check out our variety of special gifts, including baskets, tapestries, purses, kitchen wares, and a few children's items! As always, there are secure payment options, using credit card or Paypal. 
We also have a little update about our new library hut. We began a project to expand our library quite some time ago, with both a larger hut, and with more books. Here is the story of building our new hut, which now has painting and new shelf options left to complete.
The old library was the smallest hut ever built at Nhimbe and it has certainly outgrown that function. Serving not just the preschool and Mhandara Monthly Care, the local community also comes to read. People of all ages are benefiting, since the primary place to find a real library is the universities!
Because all tests are in English after grade 3, we are very interested in giving the residents as much exposure to English as possible, although our library also contains Shona language and the basic school text books. Many of the rural parents are not bilingual, which is very disempowering in a bilingual country.
What can we do to support the children as they are growing? Besides our Nhimbe preschool giving them the best start imaginable being a model in Zimbabwe, continuing to expand the library and reading options seems obvious. Please consider our library program as you are able, in your annual donation . . . see more background about our library's evolution here! 
We hope this season is finding you and yours well. Some of you may have received a postcard from us in the mail last week, reminding you to think about jumping on the website to get an early start on your annual donation, helping us with Nhimbe for Progress for next year, or using easy recurring options, which any amount carries a big impact.
Everyone there and here appreciates the continued interest in our work. The local villagers have nothing like the type of assistance that Nhimbe brings. And, we here in Ancient Ways, barely scratch the surface of the personal and community needs, but hold the vision of uplifting these residents and providing opportunity where none exists. We then watch the ripple of these efforts move to many others in Zimbabwe, simply through their natural generous network of families and friends. They take care of each other, and we offer just some basics that everyone deserves, only because of your help. We all thank you very much! Tatenda Chaizvo!
Many Blessings to you and your families!