We are so grateful to be writing to share that the "miracle" windmill was completed this weekend!  As we headed into the quarantine, in the new and absolute upside-down March reality , we reached out to ask you for help.  Some of you were so moved by our request and the timing was so perfect in your lives that you responded, right there in the midst of the chaos…and that was a miracle in my book! 
The impetus to even ask for donations of this magnitude right in the middle of the worldwide confusion, when people were frightened about their futures, was the foundation for our leap into this new way forward…and as it turns out, which we couldn't have fully imagined at the time since we didn't have a clue where this was all going, this windmill plus the power of the water and the marriage of that with the gardening efforts, is a substantial key to the entire "vulnerable intervention" piece of the CHANGE! Plan.
This will be clean, clear and abundant water for all activities at the Community Center, including the educational and gathering aspects of the space, as well as the permaculture efforts, and too, providing water for anyone in need to carry water home.  Schools will be reopening in Zimbabwe in about a month.  Our preschool is considered phase 5 of their reopening plan, so I'm not sure what that means, but it translates to yes, children will be back on the grounds this year. 
Here is the latest report from their government on reported cases, etc. It has increased since March but not radically. They are just heading into winter now.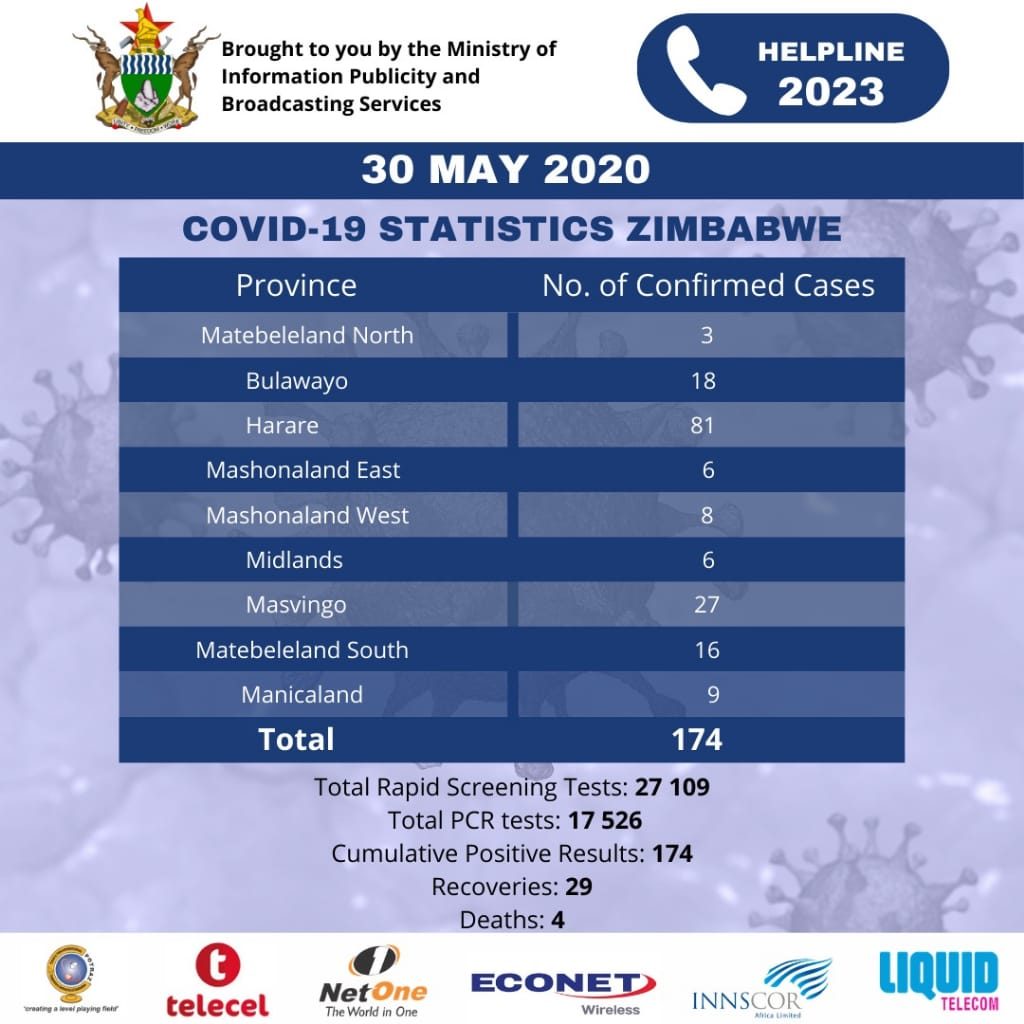 This windmill pump moves the water from out of the bore hole (a well with pipe casing) and up into the large 5,000 liter tank on the stand, which then flows with gravity to the pipes buried underground to the faucet. Check out the lush vegetables…wow!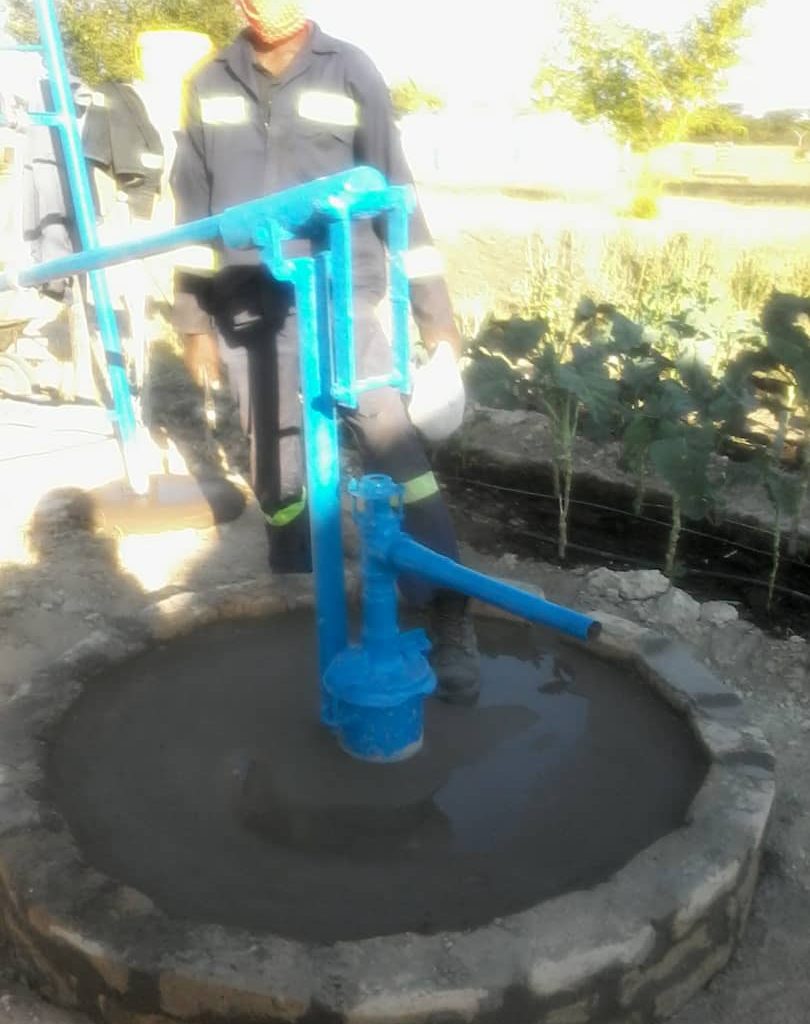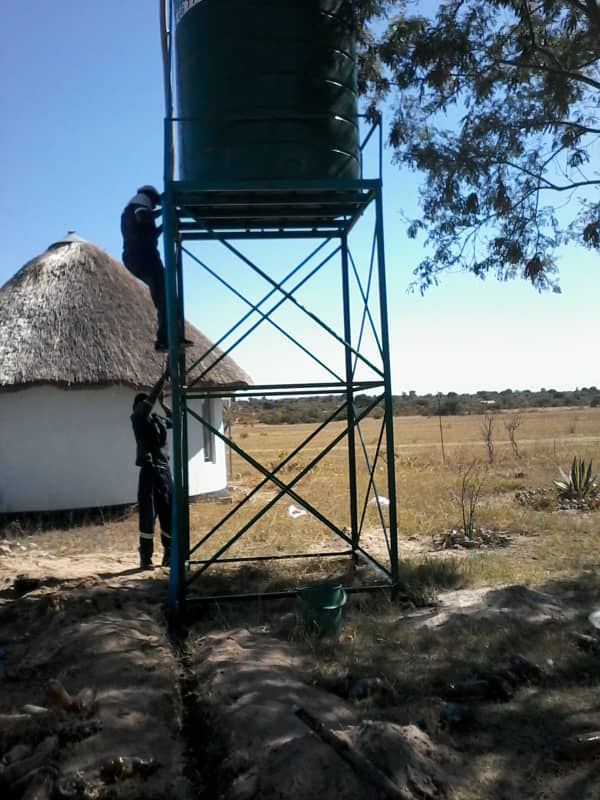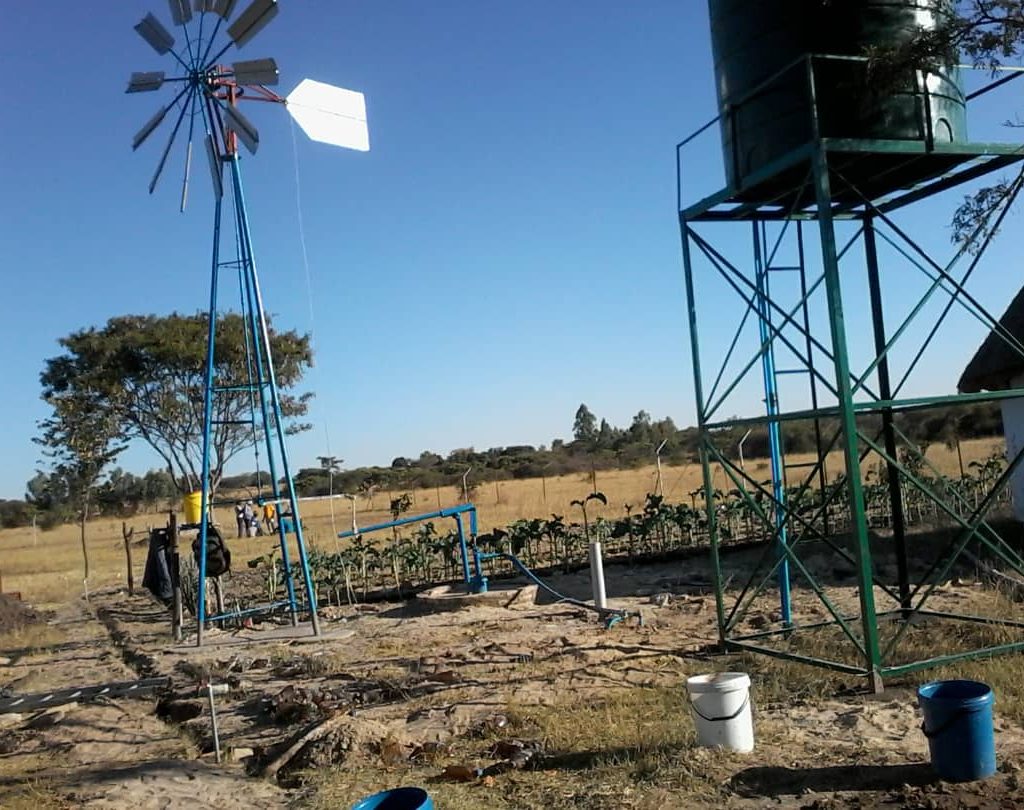 The most touching piece of this story is that the first person to respond to our plea for assistance, was someone who just happened to walk into the 2012 Moscow Idaho Zimfest (check out 2020 offerings), out of nowhere, and with no personal relationship to this music that many of us love, study and play.  As a water geologist, she has a deep relationship to water, and so right away began helping us with well building that year and each year following, and then also joined in, assisting the preschool and other projects.  This particular time, when she tried to donate using the website, it just wouldn't work right, so we talked on the phone instead, and that is where her real story emerged. 
She had been praying for a way to help the world as the Covid-19 situation erupted everywhere.  And then, there was our email the next morning, asking for just that – help with our bore hole!  The larger part of her story was that her husband, healing from a broken hip, was in rehabilitation and therefore lock down.  Even though there was only 1 case in the huge county (the size of Connecticut), the care center wasn't taking any chances. Unfortunately, their phones weren't working, nor their computers, so she was writing him a letter every day, and delivering it where the care center would keep it for 72 hours before he could read it.  They could see each other only through a small glass window.
That morning after donating to us, she went to deliver the daily letter, and they unexpectedly asked if she would like to see her husband!  The nurse let her in through a gate and wheeled him into the courtyard, where this elderly couple, caught in the middle of this Covid challenge, were reunited, sitting across the 6 feet span with tremendous gratitude, her on a bench, and he in his wheelchair.  Her life was touched by a miracle that day, just like ours, after being separated for so long.  The frosting on my cake was to hear that he was finally released about a month ago, being able to come home and do the physical therapy there, so they are living in a world full of great gratitude!
You know, they say everything is connected, and this lovely opportunity to see that up-close-and-personal in reality, was just what the doctor ordered.  It blessed my life and blessed hers.  And will continue to ripple goodness to all involved…it feels like the water itself is blessed!
We all want to thank you for your help with this critical resource. And, thank you in advance for whatever you do as we move forward, and however you do it…just telling our story is huge!
This is a sweet story in my book of "evolving on this path"…I continue to learn so much. Thank you all for the many ways you influence me and are shaping the lives in rural Mhondoro, just because you care.
There are many pieces to this borehole and windmill…one is the pump.
The windmill stand was welded and installed. It has to be strong and balanced.
There he is at the top making sure the windmill is all ready to go!
And here, the miracle in action! (I think we are over hearing a lady or three, relaxing, sipping on a soda while they watch the unfolding ;*)))
Thank you immensely for your continued support and compassion for our Zimbabwean neighbors. We, as a collective of concerned people, are making a dent in what would otherwise be further challenges in daily life there. Your generosity is touching many many people! Tatenda Chaizvo!