We are so very excited to share tremendous news. Our Nhimbe for Progress team has achieved one of the key goals of CHANGE! (Covid-19 Health Advocacy Network Growing Education!)…
They organized the educational event to teach about Covid-19, distributing masks and soap this week to the Nhimbe villages! How exciting is that?
I know I sound like a mother at the soccer field and the kid just made the goal, but really after you have been there and walked a day in the Shona shoes, you get a great appreciation for all that it takes to do little things that we here take for granted. You know, you don't just turn on the faucet to get water, or flip on the stove to cook. Each moment of every day gives additional tasks to complete to be able to do the basics, reducing the overall time available to do other things to improve one's life. Plus, they are still in a major lock-down mode!
This whole thing just moves me so deeply…we, as Ancient Ways the organization, have always been speaking to well-being as the humanitarian ideal, and so do what is possible within that context, and within the funds that you, the donor, provide us. But this latest change on our planet is reaching into another level of intervention…we are talking about life and death, how to affect limited critical resource availability and assist with resilience, the internalizing of hope, and dreaming up another future with options. Thank you for your part…my heart is finding healing in knowing you, standing with you, and reaching out.
Our team is amazing and they are becoming so skilled. Each time we make a plan, I'm so impressed and grateful for their ability to follow through and succeed in great measure. I guess 20 years of working together really is creating a fairly seamless operation. And, as we tackle more serious and complicated projects, the collaboration results are getting more impactful. We are all grateful…the whole is far greater than the sum of the parts! I want to shout across the planet Makorokoto (Congratulations!) to them! Fine job! Most especially I want to acknowledge Patricia as the leader of the CHANGE! brigade…she continues to demonstrate excellent leadership skills and a profound tenacity to tackle big jobs!
PLEASE FOLLOW OUR LATEST PROGRESS BY CLICKING HERE. You can return anytime by going to the main Covid-19 page and then, select any one of your favorite projects for a filtered view. (It is most accurate going to the google sheet from our webpage in each selected category, rather than switching worksheets from within google…otherwise the filters are not maintained by using the tabs at the bottom.)
The program went exceptionally well. The Chikara clinic representatives came to talk to the residents. Covid-19 booklets, written in Shona, were provided by the government and each household representative went home with their own copy. They were very happy that we here in the US reached out into their lives with such care.
We didn't know how much help they would have locally for the entire event, and so sent them everything we could in case Patricia was handling some of the hygiene aspects of the presentation. She said that what we sent was the same as the clinic health team gave to the people. That was a real relief.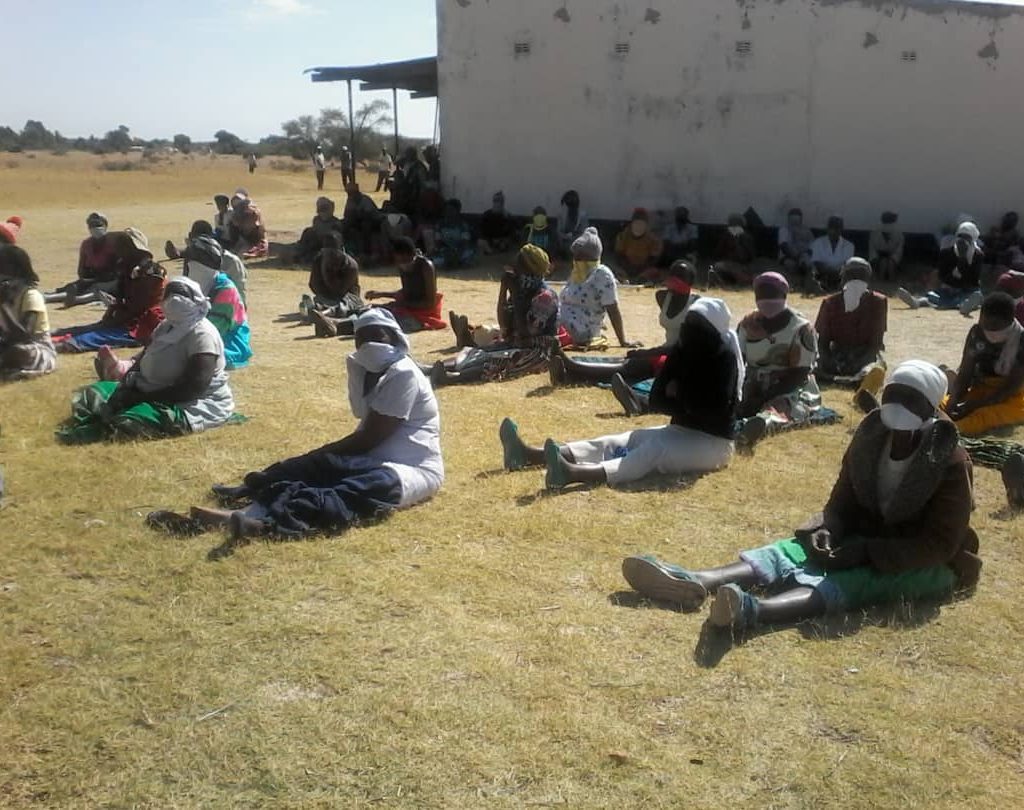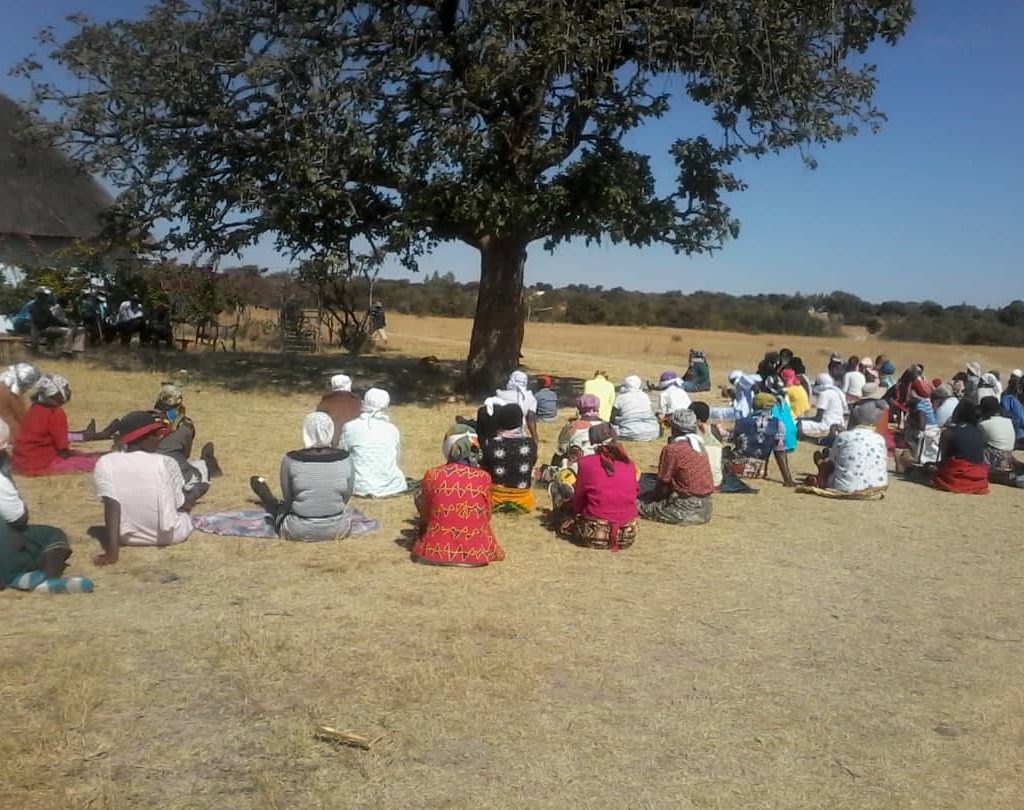 People were sitting down for the educational part of the event, and the social distance was maintained throughout. We are so relieved. Part of our concerns have been because the government there, at least on their website, is recommending just 1 meter distancing, whereas we here are following the 2 meter standard. We emphasized to them that we must educate according to this 6' standard to honor our financial support of this event. Cosmas has a satellite dish on their hut and so they watch BBC and really understand far more than the average person here, so had no problem agreeing with the plan. I must say though, that I'm am quite amazed that they had such compliance with all of the villagers. But this really speaks to the Shona nature as well. They are very respectful of authority as part of their heritage. Many of our ancestors came to this land from rebel stock to some degree, and so have a lot of independence running through our veins (no one is going to tell us what to do).
Everyone was so very happy to be able to receive the masks and soap. Each person was wearing a different type of cloth covering the nose and mouth. Sometimes a skirt, or t-shirt, or towel – all different types of masks that were worn. They were not allowed to enter inside the gate without covering the nose and the mouth.
Before entering the Nhimbe grounds, everyone washed their hands using the chigubhu, pumping the water flow operation with a foot pedal, tipping the water container, with less hand involvement. It was more of a token gesture since they didn't take the 20 seconds or use soap. But it was something. And the clever use of the chigubhu was a good idea to teach people what they can make at home as well.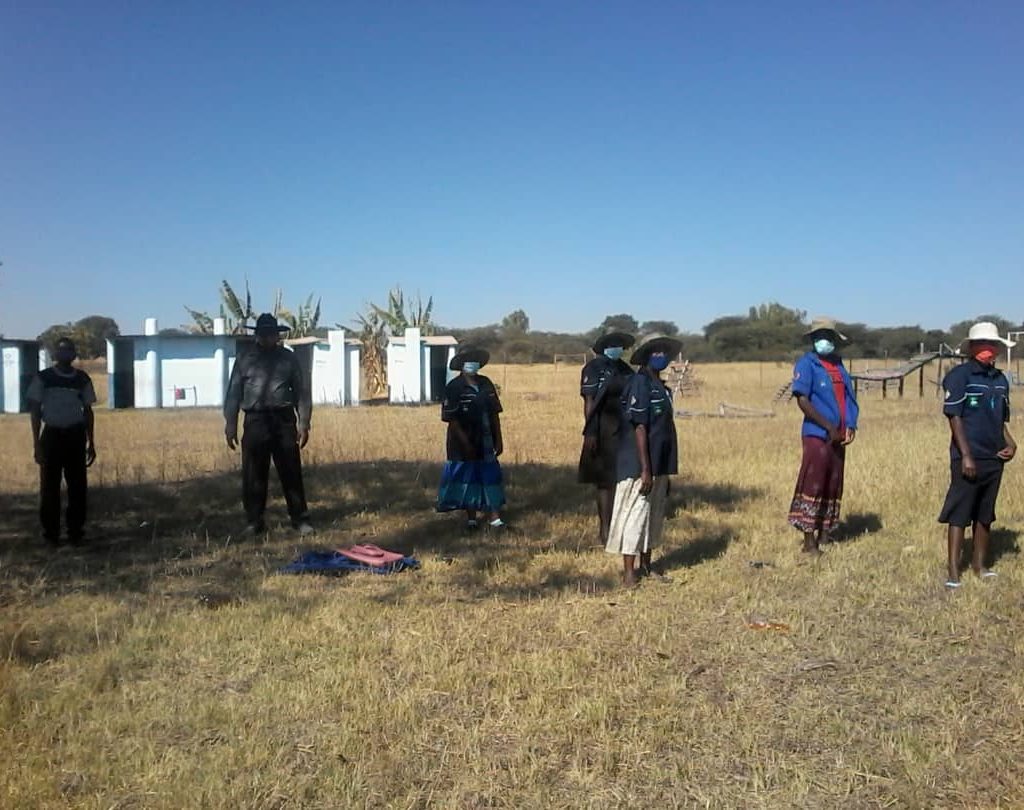 After washing they stopped at the survey table where their name, village and registration number was recorded. We have been maintaining survey data since the first trip. The goal was to get my brain around what our project was really looking at in terms of residents, their living conditions, and children we are serving, but it has continued to be a key way to monitor all resources and how they are flowing into the people's lives. Everything from huts, toilets, wells, fuel-efficient stoves, food during famine, children sponsored for education, and maturing girls, has been recorded based upon a registration number. And now soap and masks are added to the list. 237 people from 6 villages were given masks and soap, meaning some people were not in attendance, and we will need to talk over what to do next with that piece.
Do check out that windmill in the background! It is almost done and we should be able to share another bit about that story quite soon, like maybe even tomorrow!
They thanked us all – they know that everything that comes, only comes because of you, the donors! I hope you go away with a huge smile on your face today! I feel so blessed by your partnership in this work…you are truly incredible. Tatenda Chaizvo! (We thank you very much!)
Thank you also for your donations in response to needing a mask for yourself, your family and your bandmates…that is taking on a life of its own. CLICK HERE FOR MASKS if you are interested. Thank you for your patience as we fill your orders!