Hope this finds you and yours well, and enjoying your summer. The weather variability is one of the hottest topics of conversation all over the world. It is sizzling here for our little web feet…the frogs and ducks prefer more moisture!
LOCAL MID-VALLEY UPDATE
We have been very wrapped around gigging the mid-valley, from Scio, to Silverton and Philomath, having had two events cancelled due to extremes in weather, and with two upcoming opportunities this week in the Corvallis area. One is a private event, but please feel welcome to support the Willamette Grange restoration project (Greenberry Rd.), which is open to the public, this coming Saturday evening from 7 to 8:30 pm, as we share the uplifting music that we study together throughout the year. Even during lock down, we were learning online, or outside under our barn's carport, and now are so happy to be out and about, able to celebrate what we love, which is both this music, and bringing attention to Zimbabwe's situation.
Besides the ongoing music study, and more student vacations than I ever recall, we here on the farm have quite an extensive gardening project underway, learning from our Zimbabwean neighbors about living as close to the land as possible, and being blessed by nature's bounty. The rather wet spring, followed by the heat waves, have kept us a little on edge, learning to be far more adaptable, and developing new gardening skills. I continue to be in huge gratitude for the nurturing that comes from the earth, and also a superbly functioning well bringing water from an underground stream. We did have a problem with the well iron filter during the hottest spell at the beginning of the month, and so I have been left with an even greater ever-appreciation for W.A.T.E.R!
MHONDORO WEATHER AND FOOD UPDATE
Due to your incredible support last fall, we fulfilled our agreement to provide maize to the staff getting them through May. Green mealies (more like our fresh corn) usually come on by March to April, but this year, it again didn't happen that way. The residents have been messed with by the weather patterns for quite a few years now. A high percentage of crop failures meant no staple crop amongst the local people in our villages.
So, we again purchased 1 ton of maize to get staff through from June until December of this year. That really won't completely solve the problem, since whatever they are planting in November won't be harvested until March '23, but it at least will help. I didn't reach out to you and ask for your assistance when we made the decision. Muda and Febby, the project directors, presented a compelling case for stepping up again. We discussed the realities and moved forward quickly, since prices have been skyrocketing there. If you have the heart for supporting this staple food program, please do so now, here! We spent $2,000 in June (which included the transport by oxcarts), believing in the goodness of people supporting our efforts, and the hope that this is a temporary type of staff aid!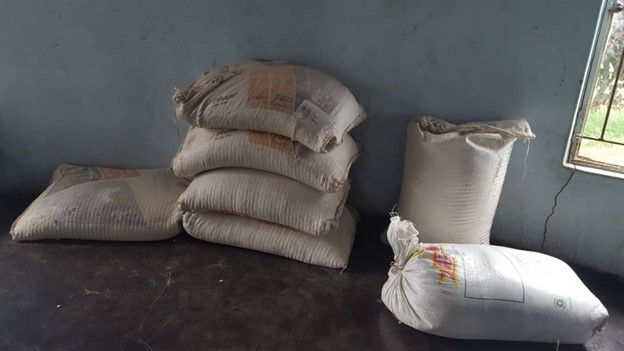 The war in the Ukraine is affecting Zimbabwe the same as the rest of the world. We in Nhimbe, see the impact in fuel, cement, and food prices, which seem to make haste to increase. When this first started happening, we jumped on it and purchased the essentials for the preschool, doubling our normal purchase. That saved us hundreds of dollars. Recently we purchased cement for well building before prices rose any further, with a plan to build the wells that your donations requested for 2022.
Due to the network issues, which haven't been fixed from the last couple years of difficult weather, the phone and internet has been spotty, and far worse than normal. It's made it incredibly difficult to have conversations and keep all of the discussions going that are the true core diet for our progress. We strive to clarify a myriad of details, which takes far longer without easy communication. At least we are able to stay on top of the monthly record-keeping, and are still blessed (since 2004) by our retired-banker-turned-bookkeeper, Alan, in Harare, who keeps us on track, with no stone unturned.
The current economy has been evolving, seeming to return to the hyperinflation days when the bond note (the local currency) is worth pennies. Currently, 10,000 Zim bond is worth just under $28 USD. It means that if you have USD you can maneuver a little bit, but the reality of all commodities increasing in price daily, means that one can't get an edge, translating to the average person living at the mercy of nature and the economy, and getting smacked hard between the two…the proverbial rock and hard spot.
YOUTH WELL BEING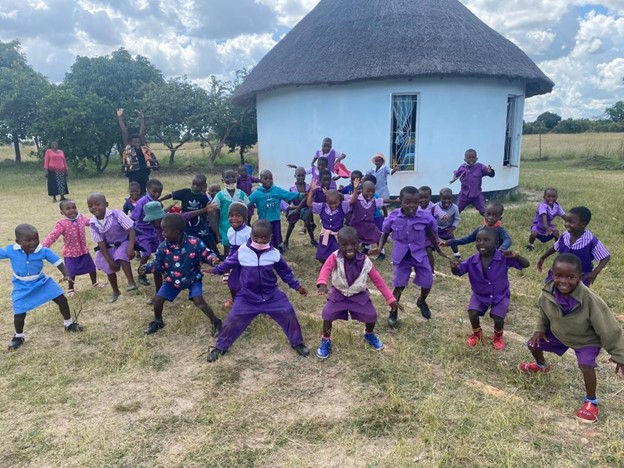 The Nhimbe preschool maintains steady operations and we see some extremely happy children. The parents are so grateful! Besides being the best prep in the area for going to 1st grade, the children also are receiving potentially their best meal of the day at our school! Many families are really struggling with the basics. We are counseled by the world's spiritual leaders to feed the poor, and that is exactly what we have been able to do, with the focus on the early childhood development years. Thank you so much for the ongoing backing of the preschool!
Our Mhandara Monthly Care (MMC) maturing girls' program is doing really great as well, and continues to expand. The local school has been sending the teens to our MMC program as a requirement for staying in school, and our director has been reaching out to the young girls living outside the Nhimbe bounds as well. This year we have distributed 360 start-up kits to new girls and are providing weekly services to far more. Here is a quick, although small group clip of a few MMC girls dancing to the marimbas in the background…all ages are invited to attend to prepare for becoming a young adult woman.
This program is such a crucial way to support both the local families, and most especially the girls in their budding personalities and visions for their life. Thank you all for however you have been assisting in this area!
LAST, BUT NOT LEAST
We have been very blessed by volunteers over the years, and the musicians are key players on that stage! Hundreds of years of musicianship and a couple thousand hours of devotion each year makes a fantastic contribution. Even in the heat, they step up and spread joy, and it's always an amazing journey of learning and comradery coupled with mastering what they set out to do!
You should also know about four other volunteers that keep making an enormous difference in our ability to do this work!
The online tech-support we receive from a retired Cincinnati judge has made me feel human again. Someone that actually knows what they are doing and can handle the persisting barrage of emails about the latest updates, makes me feel younger just thinking about it. Granted, I wrote the very first website in the 90's and so tended to think I should stay committed…and there have been others along the way, who have helped us make leaps forward with our website, but knowing that in a quick moment someone can make sense of the weirdness that comes with the online world, is such a relief! Thank you, Guy!
Over the years we have had superb attention given to keeping our financial records clean and crisp. A few months ago, an extraordinary business-minded bookkeeper has come in to join our board and help us out, not just with the books, but invaluable advice about ins-and-outs. We are super excited to have her expertise (check out more about her here). She won't be taking a tax-season hiatus and so you should always expect a fairly rapid response with your receipts for donations. We still go to the post office box on Wednesdays … do let me know if 2 weeks has gone by without us reaching out to confirm. The exception to this is if you are on a monthly auto contribution, normally we will send your receipt at the end of the year. Thank you, Heidi!
Our final volunteers to acknowledge are the other two unseen people behind the scenes that help handle the funds as they come in and go out. Funds from classes and in the mail go through a standard incoming and deposit routine without fail. We all are extremely grateful for that! Thank you, M'er!
And, the check writer, another unknown from the back office in Albany (which doubles as her quilting studio) keeps our bills paid and has been in the driver's seat since before 2018. She takes just one more ball out of my ever-lovin' hands and I can't thank her enough…Hats off to you, Elle
FUTURE BLOGS?
Yes, I will be writing you before the end of the year! I just realized that four months have gone by, and hope you know that you've been on my mind. Sounds like a good song title! I have a sweet plan for a little series of updates about all of our Nhimbe projects. There are just too many good photos and too much to say to catch you up quickly. So, please watch for the next installment, coming to a screen near you!
Many smiles, many blessings, with much Large Love from Lacomb! Jaiaen