Nhimbe for Progress continues despite the many challenges we have faced for over 20 years. There is a spirit of tenacity behind us… impelling, propelling, compelling. Please remember to check out our ongoing progress reports in this link. It shares the very latest, and can be filtered by your favorite focus!
.
Ancient Ways began working on a "transition team" in mid-August, a month after Cosmas' passing. Then, just two weeks later, we realized that Patricia, Cosmas' widow and our "next in command", was needing to return to her rural family home to fulfill her dreams as a merchant and farmer. She will be working the fields of her father's land and hopefully opening a new store. We bless her on her way, and for listening to her inner guidance, although this came as quite an awakening to all of us!
.
We immediately initiated work on a plan for the new transition team. By mid-September we began completing those strategies. How do we effectively transfer all of that knowledge and power and move forward without wasting a drop of time? The rains are likely coming the end of this month meaning, well building will cease for 6 months, preschool is starting the beginning of November (opens the 9th), and maturing girls never stop blooming!
.
Nhimbe has a new team in place working diligently on the details of getting everything moving, now! More to follow in another blog, as that is taking detailed and firm shape, solidifying with all the i's and t's clearly marked.
.
Thank you for your continued concern and support during these last few months. It means a great deal to hear from you, even if just a few words. I think the most poignant feeling shared with me has been, "No time on earth is long enough to share with those we love, or to prepare our hearts for good-bye." (Christopher Lyles) It speaks to death and loss so very well. I've certainly been blessed by the brilliant light of many people whom I've dearly loved over the years and that sentiment shouts loudly.
.
Everyone on our team is deeply moved by being a member of this new Nhimbe. We all recognize how fragile life is, and what a tender seedling we have in our hands, looking for the sun and hoping for the nurturing of rain. We are rapidly working towards getting the preschoolers in their seats by phase 4 of the government's plan, and MMC girls again learning about their bodies, as well as deepening the remaining 25 wells before the rains come…all considering Covid-19 safety issues!
.
Locally, here in Oregon we are currently looking at higher numbers of infections as well. As a music community we continue to encourage utmost care in all arenas, including mask-wearing. Our latest volunteer has come forward with a great new mask for us to offer through Ancient Ways on behalf of Nhimbe (currently only 4 new fabrics available at the bottom). Please check it out:
Designed by an engineer, Dora Cary of Orange Dot Quilts, and enhanced with special adaptive features by Heather Hodney.
Curves out away from nose/mouth, allowing more breathing room.
Does not slip down when talking.
Silicone adjusters to size ear loops to fit.
Ear loop elastic extends behind head, creating a lanyard, allowing mask to be worn around neck when not needed as face covering.
Nose piece can be removed.
Made of 2 layers of pre-washed cotton.
Can be machine washed and dried .
Here is our first testimonial "I love the mask. It is the best fitting one I've tried to date. The special features of the nose guard, 3-D breath-ability, toggles for fit, and the elastic for around the neck make this design special—not to mention the beautiful fabric! They really are sensational". Liz H.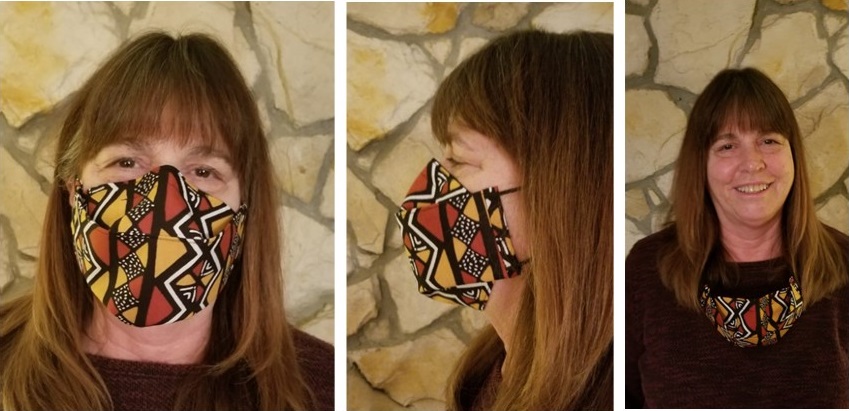 …..
Although, according to the inventory status (which includes pictures), we haven't been able to keep many pre-made of the new design in stock, but we are finding quite reasonable turn-around on orders. Do feel free to request what you like! Send your friends to the Mask for the Mask Tribe page!
.
Thank you so very much for your ongoing interest is what we are about, and desiring to accomplish! You are one of the spokes in the Nhimbe "wheel" of Progress! Tatenda Chaizvo!